**BLOG**
Oeps te lang geleden!
10 maart 2022
Weer te lang geleden dat ik iets van me heb laten horen, natuurlijk wel via mailtjes iedereen op de hoogte gehouden. Sinds januari de Craft & Fun Box geintroduceert en dit is een groot succes. Nu druk bezig met de box van maart, maar door de carnaval een beetje achterstand opgelopen. Maar ga het vast wel weer redden eind van de maand de box klaar te hebben. Ook heel veel spulletjes ingekocht en deze allemaal aan het invoeren dus weer veel leuk nieuws. Hoop deze blog een beetje bij te kunnen houden. Hier een voobeeld van een pagina van de februari box.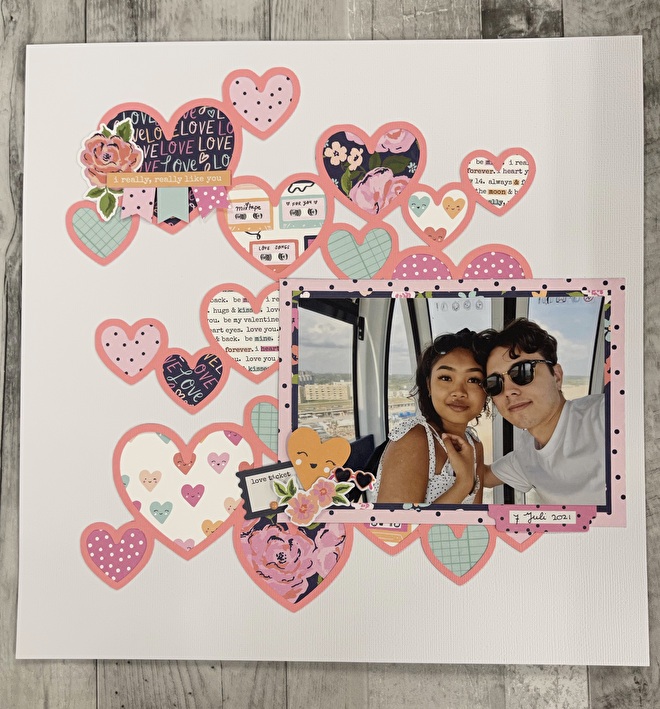 Black Friday Actie
24 november 2021
Vanaf vandaag zijn er weer heel veel leuke artikelen in de Black Friday Sale !! Kijk snel op de Black Friday pagina en gebruik de code Black2021 om 50% korting te krijgen op deze pagina. Actie duurt t/m 1 december !!
Veel nieuwe artikelen op de site
04 november 2021
Heb heel veel leuke nieuwe spulletjes binnen gekregen, deze ben ik allemaal aan het toevoegen. Helaas is het teveel om in 1 dag te doen, maar hoop wel volgende week klaar te zijn. Dan wil ik aan mijn kerstkaartjes gaan beginnen. Zal hier wat leuke kaartjes laten zien als ik er een paar klaar heb.
Throwback Thursday
22 september 2021
Het is weer Throwback Thursday week van 23 september t/m 28 spetember.
70% kortingop de Throwback Thurday pagina met code TBT10 !
Herfst
12 oktober 2020
Het is weer herfst en de blaadjes vallen van de bomen, mooie kleuren en dus ook mooie foto mommenten.
Ook weer binnenkort Halloween, helaas doet de corona roet in het eten gooien wat betreft alle leuke Halloween feesten. Maar ondanks dat kunnen we nog steeds leuke dingen maken en creatief bezig zijn.
Voor degen die leuke foto's hebben gemaakt of weer iets leuks in elkaar willen zetten hou de site in de gaten er komt een leuke workshop aan voor de herfst.
Stay Safe !!
Corona
17 april 2020
We leven nu echt in een heel andere wereld lijkt wel, deze virus is echt verschrikkelijk. We moeten 1,5 meter afstand houden van al onze vrienden en familie en bij de risico groepen onder ons weg blijven, heel moeilijk !! Juist nu je eigenlijk iedereen wil knuffelen en steunen in deze moeilijke tijd. Video bellen is nu heel normaal, door de ramen zwaaien en praten ook, echt een rare tijd. Hoop dat iedereen elkaar een beetje in de gaten houd en contact houd op een afstandje. Blijf gezond en houd de moed erin hoe moeilijk het ook is en nog zal blijven, want er lijkt nog geen eind aan te komen. Heel veel sterkte allemaal !!
Natuurlijk kun je nog steeds bestellingen doen deze doe ik ook zo snel mogelijk de deur uit, helaas kan de transporteur niet altijd op tijd komen omdat deze het heel druk hebben nu iedereen heel veel online besteld.
Stay safe and creative !
Lang Geleden
14 maart 2020
Het is weer lang geleden dat ik iets heb geschreven hier zie ik. Wel nu is iedereen in de ban van de corona virus, dit is echt heel verschrikkelijk. Voor al degene die ziek zijn of niet wens ik veel sterkte toe in deze erg verontrustende tijd. Nu iedereen zo'n beetje verplicht is om binnen en thuis te blijven en ik ook, is dit een mooi moment om wat inhaal werk te doen. Dus hou de site in de gaten er gaan veel nieuwe en oude producten bij komen.
Fijn weekend en voor de zieken onder ons, heel veel beterschap!
Wat was het toch warm!
28 juli 2019
Na een paar zeer hete dagen gelukkig weer een beetje afgekoeld. Mijn kantoor heeft helaas geen airco dus was erg warm om te werken en heb het dus wat rustiger aan gedaan, maar we gaan er weer tegenaan en komen dagelijk weer veel leuke aanbiedingen bij. En natuurlijk ook met de voorbereidingen van de workshops ga ik weer volop aan de gang.
Summer Sale
21 juli 2019
Druk bezig leuke aanbiedingen in de shop te zetten voor de summer sale, iedere dag komen er weer leuke nieuwe items bij. Natuurlijk zijn deze met alle liefde voor jullie uitgezocht en erin gezet, zodat er weer na de vakantie creatieve creaties gemaakt kunnen worden. Fijne vakantie en geniet van het zonnetje !!
Eerste pagina nu eindelijk echt klaar!
29 juni 2019
Hij lag al een tijdje klaar, maar nog niet vast geplakt. Nu eindelijk vastgeplakt en dus check insta en facebook voor de eerste pagina en de papierlijn waar we mee gaan werken. We werken Oh, Happy Days een super leuke en kleurrijke lijn, waar je heel veel foto's mee kunt combineren.
Leuke nieuwe Simple Stories binnen
22 juni 2019
Leuke nieuwe spulletjes binnen van Simple Stories, vandaag ga ik deze natuurlijk allemaal online zetten. Eind van de dag zal wel alles erin staan.
Eerste pagina van nieuwe workshop is bijna klaar dus deze zal er ook vandaag of morgen op komen te staan en ook nieuwe data voor workshops. Dus houd je agenda bij de hand want deze wil je natuurlijk niet missen.
Terug van vakantie
6 juni 2019
We zijn weer terug en hebben er alweer een week opzitten met veel inhaal werk en bestellingen. Na dit weekend gaan we er weer tegenaan en ga ik aan een nieuw album track beginnen, deze zal dan ergens in september zijn. Wat voor papier we gaan gebruiken dat is nog even een suprise. Kan wel verklappen dat het erg leuk en vrolijk is. Dus hou de update's in de gaten, ik zal zeker hier en daar een foto plaatsen op facebook en insta. Want ook daar moet ik wat vaker gaan posten, maar de dagen zijn gewoon te kort en ik weet zeker dat ik niet de enige ben die er zo over denkt.